Installation Errors probably lead to mechanical issues over time. This article provides troubleshooting steps that should resolve most jamming issues.
Troubleshooting Steps:
Note: Please do not insert the mechanical key during installation.
1. Please check the depth of the frame's hole. It must be more than 1''. For the Latch/Lever/Handle lock, the frame's hole is usually less than 1''. Please drill the hole to fit the deadbolt.
2. Loosen the screws on the Mounting Plate (Screws D) and the Deadbolt (Screws C). Over-tightening the screws during installation may result in a clicking noise from the lock or even failure to operate with the App/Keypad/Fingerprint.
3. Upgrade the lock's firmware to the latest version. U-tec App > Setting > Firmware. Please make sure under Bluetooth connection to do the Firmware Upgrade. Please follow this article to learn more details about the firmware upgrade.
A possible solution for you is to find out how to adjust the deadbolt.
If the issue persists, please follow the Installation Guide to re-install the whole lock.
Related Problems:
1. The U-tec App shows the "Deadbolt is jammed" error.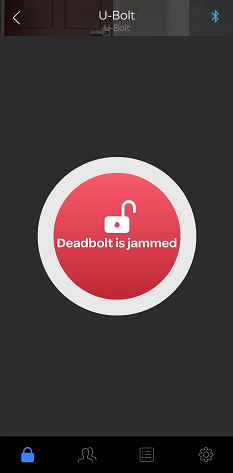 2. The U-tec App is opposite to the actual direction. Deadbolt is unlocked, but the App shows "locked."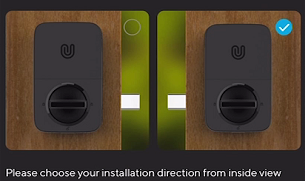 3. The deadbolt can't move all the way. (Unable fully retract or fully extend)
4. U-bolt repeat lock and unlock by itself, and drain the battery quickly.
************************************************************************************************
If all attempts fail, please submit a trouble ticket here.
We would be appreciated it if you could send us a short malfunctioning video when you submit the ticket. It will help us analyze the issue more quickly. If the video size is too big to upload, you can upload it to Google Drive and share the download link with us. We will offer a free replacement under warranty as soon as we confirm the issue.
Note: Please choose the correct Request category when you submit a ticket.
Related Article: My lock is making a beeping noise. What does it mean?