For U-Bolt WiFi & U-Bolt Pro WiFi only
Possible reasons:
1. The home internet is unable to connect, please check if the WiFi signal is working in the smartphone or other smart devices.
2. The WiFi signal is too weak at the installation location for the lock to stay connected. Please keep the lock connected to the U-tec App through Bluetooth and go to the WiFi settings to check the WiFi signal strength. The recommended WiFi signal value should be from 0 to -65dB.
3. If during the WiFi setup process, there is an "internet connection fails" warning, then the lock will not be able to connect to the internet. In this case, please disconnect the lock from the WiFi network and set up the WiFi connection again.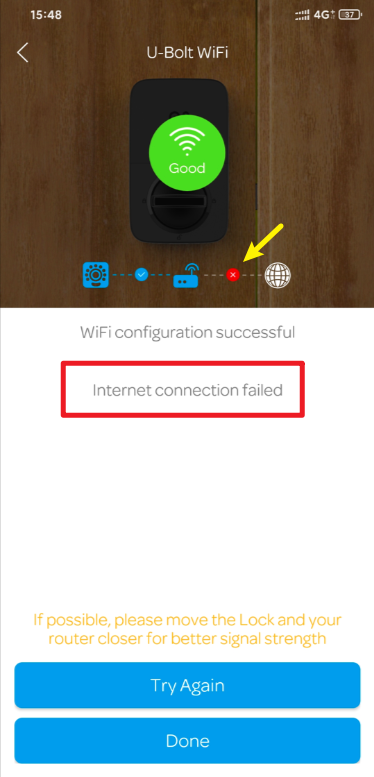 During WiFi setup, the App shows "Internet connection fails", what should I do?
When the internet is temporarily unstable, this setup failure may occur.
For IOS phones: Tap done, disable the Bluetooth to check if the WiFi connection is working properly. If the WiFi connection is OK, then the lock is good to go. If not, please disconnect the WiFi and pair it again.
For Android phones: Tap "Done", and keep the Bluetooth connecting. Please go to the settings and disconnect the WiFi, then pair the lock with the WiFi network again.