A factory reset erases all the users' data from your lock, restoring it back to its original, out-of-the-box settings. Any fingerprints or codes can unlock Ultraloq Lever in the factory default mode.
Reset an Ultraloq Smart Lock via the U-tec App
If you paired the Ultraloq Lever to the U-tec App, the U-tec App remembers the register information, you need to follow the steps below to erase the data from the U-tec App.
Step 1. On your phone, open the U-tec App and go to the lock device list.
Step 2. Select the device you wish to reset and click the Settings menu (gear icon).
Step 3. Scroll to Advanced then click it.
Step 4. Click "Delete and Reset".
Step 5. Go back to the device list to check the lock is removed.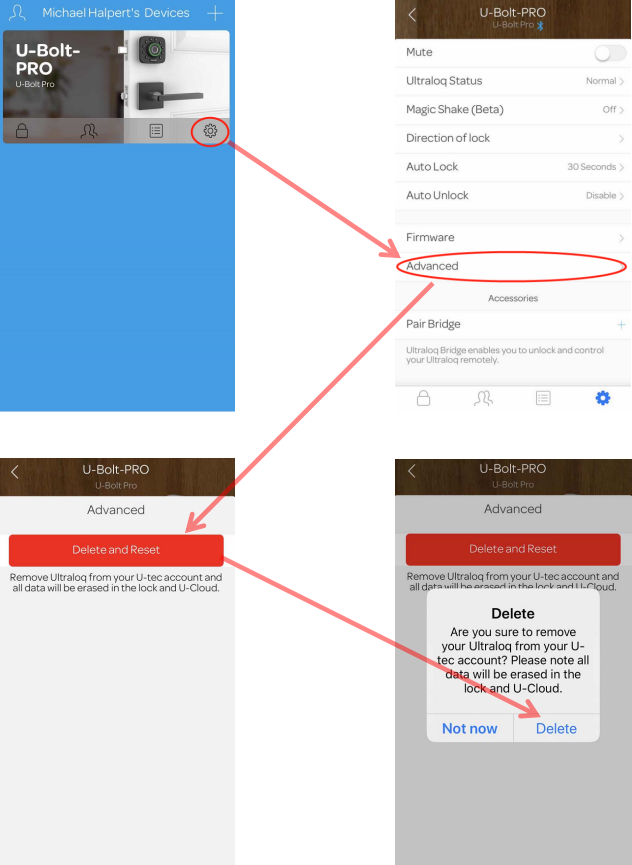 Reset an Ultraloq Smart Lock via the Reset Button
Using the Reset needle to push the Reset button for around 3 seconds until you hear the voice notification. Remove the battery cover, the Reset button is at the bottom of the Battery Box.