You will need to:
Go to www.u-tec.com;
Select support;

Please provide the following information when you submit the ticket.
Please provide the receipts and the photo of your Serial Number(Labeled on the lock's battery box) first.
Also, please provide your MAC address meanwhile. You can find it from the Settings page of your Ultraloq in the U-tec APP. e.g., 58:Y6:T7:XX:XX:XX
Note: We can only help the users who provide all of the information we requested and ordered from us or authorized distributors to remove the device.
If it's a new house that you purchased, please provide us with the proof of purchase, like the invoice or receipt. We need the purchase page with the buyer and seller<*important*>. Please provide us with the rental agreement if it's a rental property. You can hide any sensitive information except the landlord's name.
*Another Scenario*:
If this email is your email address, but the lock is not on your device list, the problem maybe caused by you have input the wrong email address when you register the account. Normally it has only one letter mistake. This wrong email always has a ".con" at the end instead of the ".com".
Considering customer security, we cannot change/delete the user account. The good news is, it is relatively easy for you to fix this problem by yourself.
You can delete your current lock from the U-tec App via the current/wrong account you are using now.
The process explains in our article How to Reset Ultraloq Smart Lock to its Factory Settings? for your reference.
Steps: U-tec App > Your lock type > Settings > Advanced > Delete. <Please see below/attachment for your reference>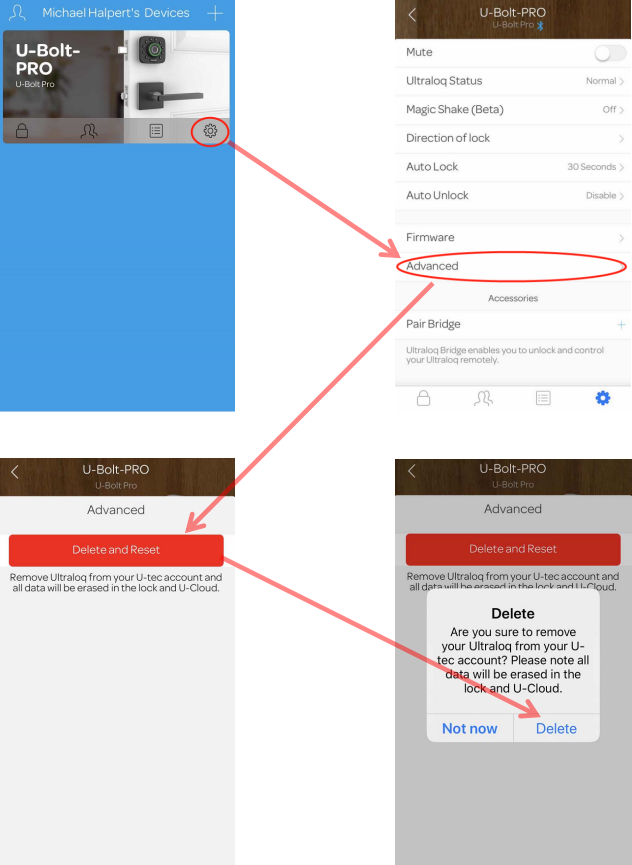 After that, you will be able to register this lock to the correct account.